Last Sunday, I went hang gliding for the first time.
Well, I took a lesson. Let's say that.
I was lucky enough to be taught
by Andy Beem, a world class hang glider pilot,
rated the #1 instructor in the U.S. in 2022.
For my very first flight, Andy gave me
only 3 tasks to focus on:
Eyes focused on a target
Light touch
Upright body position for takeoff and landing
It allowed me to focus;
it allowed me to feel calm;
it allowed me to succeed.
The mark of a pro is knowing what to say,
what not to say,
and how to make the complex clear.
A great leader, sales professional,
or expert in ANY area will almost always have these skills.
I remember meeting with one of my clients,
a C-suite executive at Starbucks,
about the quarters ahead.
He showed me some of his plans,
stating that he was focused on three primary objectives.
And he explained he never has more than 3.
The same was true for Andy's expert teaching.
Each time I went, Andy would give me
no more than three adjustments
to keep in mind, and often only one.
I advanced quickly. He was a phenomenal teacher.
So when you
… set your strategy
… meet with a direct report, customer, client, prospect
… give feedback
… train a new team member
just how many disparate elements
are you suggesting people consider and do?
In essence, are you setting priorities
and giving directions
that are clear, focused and few?
Risk Forward & Fly On,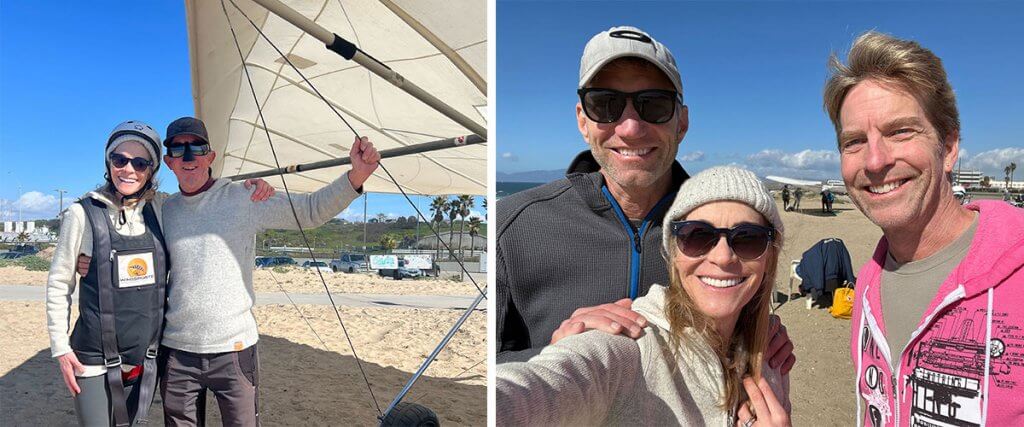 P.S. Huge shout out to my dear friend, Owen Morse, who is a 2x world-record-holding hang glider pilot and is the one who gave me the opportunity to have a lesson with Andy Beem (pictured in white sweater).
P.P.S. I know. I know. I'm wearing CLOGS! This was a last minute invitation. I was out in LA and had only jazz slippers, suede boots, stage heels…and clogs. So clogs it was!