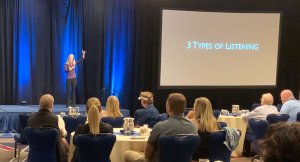 The Sting
Earlier this summer, I delivered a keynote
to a few hundred people.
It went well. I got a standing ovation.
I received a lot of nice comments
from audience members who
stopped me after in the halls.
But a few days later,
my agent reached out to say
the client "thought it was great,
but he wasn't WOW-ed."
That stung. Huh?
My ego immediately kicked in.
I thought to myself,
"What?! Wasn't WOW-ed? People loved it!
They stood up. They stopped me in the halls."
But somewhere inside,
I knew it could be better.
Stepping Up
I texted a colleague of mine
to share the news and discuss next steps,
and at his encouragement
I reached back out to my agent
…and the client.
This was an opportunity to show
that I'm a pro and that I always want to improve.
Fortunately, I had another keynote in August
with this same organization.
I had a second chance.
Several Revisions
Here's what I did…
spoke with the client's team
scheduled a meeting with the CEO
asked a lot of questions
proposed different content ideas
went back to the drawing board
restructured the entire keynote
refined key points, examples, stories, slides, specific wording.
In short, I revisited EVERYTHING.
It took a ton of hours,
and there were definitely moments when my ego kicked back in:
"I'm in the Speaker Hall of Fame.
I've spoken to hundreds of companies.
I can't believe I'm putting in this much time!!"
But rather than rest on my past success,
I was committed to crushing it in the future.
Success
And here's what happened.
The keynote did not get a standing ovation.
It got something far more valuable.
Because the CEO had realized that
what he wanted after Round 1
was not a "whiz-bang-WOW" presentation.
What the CEO wanted instead
were very specific additions,
micro details about their business
that he realized after our call I could contribute.
Was I willing to add them? 100%.
Did it take a lot of work?
Oh my goooooodness, yes.
But here was the response from various audience members:
"We've been in the business over 30-years. You're the best speaker we've ever had."
"I wish we had this recorded so we could share it with our younger team members."
"Everything you were talking about was exactly what we're dealing with. Everything was so on point."
The President & CEO himself gave me a big hug after
and said "Out. Of. The. Ballpark!"
He followed up with an email last week:
"Victoria,
Just wanted to again thank you for your presentation in Idaho; it was spectacular!! I received feedback from multiple extremely enthusiastic advisors, who really appreciated your message. None of this would have been possible if you had not taken the time to proactively solicit feedback and then act on it. Above and beyond !! Can't thank you enough!!"
So the next time you receive a blow, remember…
although it stings at first
"suck it up buttercup"
step up to the plate
and show them what you're really made of.
Risk Forward and Rock On,